Thornton Hough Village Hall
11th January: Problems with the landline today, apologies for any inconvenience, any queries please email through to me and I will respond as soon as I can! Karen
Function rooms for hire
The village hall is a registered charity and our function rooms are available for regular and one off events.
If you are interested in using our facilities please contact Karen Jones on 0151 336 1958.
We are fully licensed and we can host:
Club and society meetings
Social events, Fundraising events
Wedding receptions, christenings and wakes
Childrens birthday parties, 21+ birthday parties
REGULAR BOOKING SPACE HAS BECOME AVAILABLE ON:
TUESDAY EVENINGS FROM 7.45PM
email me for more information.
Coffee Shop
The cafe is open to the public from 10am til 3.00pm, Monday to Friday, serving  breakfasts 10-11.30am, lunches and light snacks, Homemade specials on offer every day from 11.30am-2.30pm. Lunch party bookings can be taken with 24 hours notice. Card machine now available.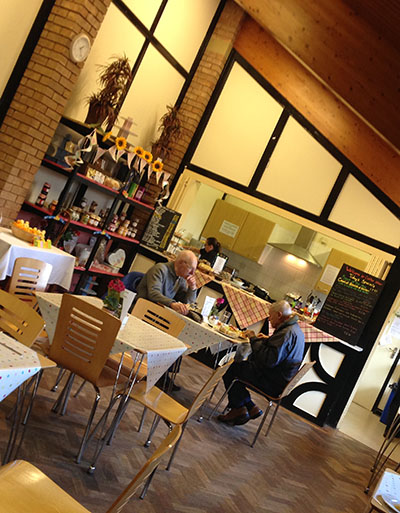 Local Produce:
The cafe also stocks a range of local produce, including cakes, jams, chutneys, honey, biscuits, eggs and gifts.Orders can be taken to supply fresh fruit and vegetables from our local farm supplier on a week day basis.
What's on:
We host a wide range of events - something for everyone:
Playgroup -Tumbletots - Training
A-Star Sports- Yoga
Badminton-Rainbows, Brownies, Guides
Private hire- Morrisdancing practise
Modern Jive classes
Twist and Shout musical movement
Beekeeper meetings - business meetings
Private room available during summer holidays
Fairs - Craft, Postcards, Summer, Christmas. Coffee Shop is open for all fairs
Christenings, Children's parties, Weddings, Wakes.
Our inhouse caterers will be happy to chat over your food requirements.
We are now available to cater for your childs birthday parties if you wish us to, just ask upon booking to see our menus.
Check our diary to see what's happening and availability for regular  or one off hires.